FAQ - General Photography and Photo Sessions
---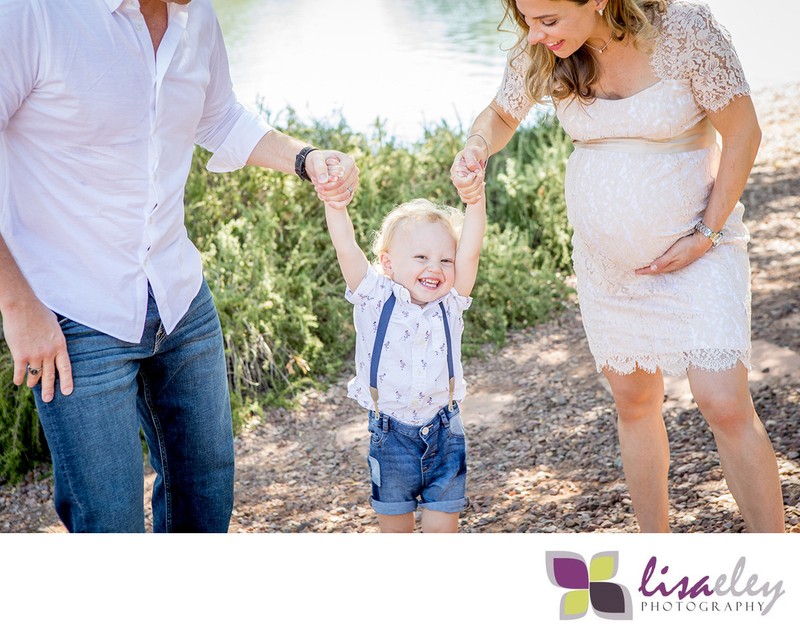 HOW LONG HAVE YOU BEEN SHOOTING?
People ask how I got into photography, I've basically been shooting all of my life. When I was 15, I was blessed with working for an an award-winning artist, photographer, and mentor. I was able to learn all sides of photography – production, retouching, lighting, and shooting. I am forever grateful for such great hands-on experience which led me to pursuing photography and artistic design in college. A few years later, my husband urged me to make the frightening move of quitting my desk job and start my own company in 2007. And now, here we are.
WHAT IS YOUR PHOTOGRAPHY STYLE?
We love to tell a story in your images through a combination of artistic and natural images. Some guidance and posing is necessary to ease the families we photograph, but we always incorporate movement which brings some more fun to the session. Not only do we love to take photos of special moments, we truly get excited to capture your personalities and quirks too! We are thankful to get a glimpse into who you are, and see that on camera. I love bold colors, but also the softness of the golden hour sunshine.
ARE YOU A NATURAL LIGHT OR FLASH PHOTOGRAPHER?
Natural light is the way to go! It shows flattering skin tones and is definitely my go-to. Sunset sessions may have a bit of flash at the end of the photo shoot, to bring out all of the beautiful colors in the sky!
DO YOU SHOOT ONLY IN PHOENIX?
We photograph all throughout the Phoenix valley and travel mostly within Arizona. Destination weddings and photography sessions outside of Arizona are available, and are quoted on an individual basis. Please contact us for more information on destination shoots.
WHAT IS REQUIRED TO RESERVE MY SESSION?
Our session fee is $150, which is paid in advance and reserves your session date and time. This fee covers the shooting time, color correction, and retouching for up to five people. If you have a large group or family, please contact us for a custom quote.
DOES THE SESSION FEE INCLUDE THE DIGITAL FILES?
The session fee covers the photographer's shooting time, color correction, and retouching - this does not include any prints or rights to digital files. After the session, we will send you a weblink to your portrait gallery. From that online gallery, you can then purchase prints or digital files from your photography session.
DO YOU INCLUDE RETOUCHING OF PHOTOGRAPHS?
Absolutely! Retouching is a very important part of our artistic process. All images are adjusted for optimal color and brightness. We lightly retouch the images and are happy to fine-tune any selected favorites for you.
DO YOU OFFER PHOTO PRINTS INSTEAD OF DIGITAL FILES?
Yes, after you view your images you can decide on prints or digital files. Most of our families love to have all of the digitals as keepsakes, but also want prints with a high quality finish. Our professional photographer's lab offers multiple prints sizes, canvases, collages, gallery wraps, and flush-mount custom designed albums.
HOW LONG DO YOU KEEP THE IMAGES ON FILE?
Sessions are kept on file for two years, and are backed up in two separate and secure locations. If you have purchased the digital images, we always recommend you back up the files as well.
HOW MANY IMAGES WOULD I TYPICALLY SEE?
After the session you will view around 50 images. We take out any test shots, and duplicates so you have a completed beautiful gallery, similar to what you would see on our website.
DO YOU PROVIDE RAW FILES OR JPEGS?
We provide full high-resolution jpeg files to our families. Our images are color corrected and fine-tuned after the session to create the final product. As a photographer, we believe the final images that are delivered should always reflect our standard of work. We always love to see these images displayed in your home.
WHAT RESOLUTION DO YOU SEND THE IMAGES TO US IN?
Final images will be uploaded at 300 DPI (dots per inch), and will download without a watermark. This allows you to print multiple sizes versus just receiving printing rights that turn pixelated when enlarged.
WHEN WILL I VIEW MY IMAGES?
Portrait sessions are available to view between 1-2 weeks after the session, depending on the time of year.
WILL I RECEIVE THE DIGITAL IMAGES WITH COPYRIGHTS TO THE IMAGES?
Yes, you may purchase the digital images with copyrights for the entire photo session, or you can just select your favorite individual images. Digital files are 300 DPI and come without a watermark so you can use or post wherever you'd like. The price for the digital images with copyrights for a full session are $295 (roughly 50 images). Pricing for individual images will vary depending on the number of images requested.
DO WE GET TO SEE BLACK AND WHITE IMAGES?
Some images are very pleasing in black and white, so we hand-select those images. Additional photos you wish to see in black and white can be added to your gallery at no charge.
DO YOU DELIVER EVERY IMAGE YOU SHOOT?
We shoot more images then are delivered so that we don't miss a great moment. However, it's important that we narrow down the selection to make sure you don't end up with blurry shots, or photos in which everyone's eyes are closed!
HOW ARE YOUR ALBUMS DIFFERENT FROM SOMETHING I WOULD CREATE ON MY OWN?
We custom design all albums which makes them professional (but personal) for your baby, family, or wedding. Our album pages are made of true thick photographic prints, instead of magazine-type paper that is easily damaged. The albums have lay-flat pages so there is no gap, which allows us to incorporate full spread images! We do all of the design work, but can make changes if you have feedback.
DO YOU HAVE A RESCHEDULING FEE?
Sessions that are rescheduled with more than a 24-hour notice do not have to pay a rescheduling fee. Day-of-session reschedules are $35. Our sessions are scheduled with consideration to timing of other photo sessions that day.
DO I HAVE TO GIVE PERMISSION TO POST MY PHOTOS?
We do love to be able to showcase our photography and are extremely thankful for families that allow us to do that! All clients will sign an optional model release form if they chose to allow images from your session for website and social media use. We respect your privacy, and will keep your images private if you choose not to share your images.
CAN WE REPLICATE PHOTOGRAPHS FROM PINTEREST?
Pinterest is a great place to get inspiration on what style of photography you love. Feel free to share your style with us and we will create shots that go that direction. Keep in mind, it's important to capture the unique qualities in your family, and not be entirely recreating another photographer's work. That's why you should always select a photographer whose work you love!