FAQ - Wedding and Engagement Photography
---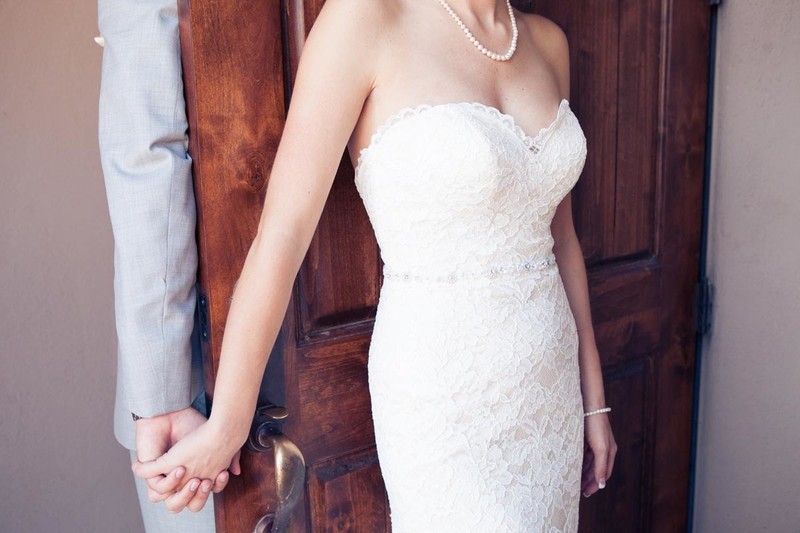 WHY SHOULD I HIRE A PROFESSIONAL WEDDING PHOTOGRAPHER?
When planning your wedding, it's important to remember you aren't just getting someone to take photos, you are relying on them to capture the memories of your wedding day. Hiring someone who is a seasoned professional takes the pressure off of yourself. It's more than taking a photo - it's telling your story, knowing the wedding day in and out, and delivering beautifully finalized images that will forever cherish these wonderful memories!
CAN WE MEET FOR A CONSULATION?
Absolutely! We love to meet all of our couples for a consultation to get to know each other and see if we would be a good fit. This is also a great time for you to be able to view and touch our custom-designed wedding albums.
SHOULD WE TAKE ENGAGEMENT PHOTOS?
Engagement photos help tell the whole story. We love to spend time getting to know you and hear how your story is unique. It's also fun to see how you interact in front of a camera, and how we work together before the big day! This is a great time to do a hair and makeup trial, and see how it looks on camera. Engagement photos are also great to use for save-the-date cards or even wedding invitations.
HOW FAR IN ADVANCE SHOULD I BOOK?
Our weddings typically book 12 to 18 months before the wedding. Weekend dates obviously fill up sooner than weekday weddings. Reserving in advance guarantees you get your preferred photographer. If Lisa is booked for your wedding date, we also have some amazing associate photographers that shoot with our team, as well. Pricing may differ on associate photographers, so please contact us for specific quotes.
DO YOU RECOMMEND A "FIRST LOOK"?
A First Look is helpful when you don't want to use your cocktail hour for photographs. In order to give you the photos you see in our work, we need the time to capture the different moments we see. A First Look will also help set the timeline, so your day doesn't feel rushed. We typically like an hour for formal photos, depending on the size of your family and bridal party. If you chose to do a First Look, we get your photos mostly done before the ceremony. We always set up the First Look location to have amazing light, as well as help create a very intimate moment for just the bride and groom. Doing a First Look helps relieve some of the pre-wedding jitters, while some people feel it takes away some of the excitement of seeing each other for the first time at the ceremony. Ultimately it is your special day, so let us know what works best for you!
DO YOU RECOMMEND A SECOND PHOTOGRAPHER?
We typically suggest a 2nd photographer if you have a large wedding party. This would allow another photographer to capture some details of the groom and groomsmen getting ready, different moments during the ceremony, and also helps with formal photos. If your bridal party is smaller, we are open to shooting it with one photographer, and can capture those moments as well. If you feel these images are important to you with a larger party, then you might want to think about adding a second photographer. If not, then that's okay too! This is your wedding, you do what you feel is right for you and your budget.
HOW MANY PHOTOS WILL I SEE FROM MY WEDDING DAY?
You will receive approximately around 500 images for a 5 hour wedding, and 700 for a 7 hour wedding, etc. We actually shoot many more images, which gives us the ability to head swap if needed. Taking out duplicates and blurry images is part of our post production work, so we present to you a beautiful and unique wedding gallery of your photos.
HOW WILL I RECEIVE MY WEDDING IMAGES?
Your wedding day images will be delivered to you on a thumb drive, all high-resolution files. They will be non-watermarked, and you will have full copyright permission. This allows you to print your photos where and when you chose. You will also receive an online gallery for viewing prior to the thumb drive being mailed to you. It's a great way to share your images with friends and family without having to show them individually. Friends and family can also order prints from these online galleries, if they are looking for professional prints from our lab.
SHOULD I SEND YOU A LIST OF PHOTOS?
When you decide to book your wedding photography, we send you a wedding checklist that keeps us organized the day-of. It will guide us as we are photographing your wedding party and family members. Details and key moments are always captured in addition to a lot of candid moments. Feel free to add any other specifics shots you are looking for. But take heart, you're choosing your photographer because of the confidence they will get all the moments you are dreaming of!
WHEN SHOULD WE FINALIZE THE PHOTO TIMELINE?
Typically once you know the ceremony time, we can iron out a tentative photo timeline for you and your wedding party. Final timelines should be set at least two weeks before the wedding for photography. However, other vendors may need it sooner.
CAN WE GO TO A DIFFERENT LOCATION FOR OUR BRIDAL FORMALS?
We love to know in advance what your wedding location has to offer for beautiful images. Most venues have amazing grounds, so we don't have to use time driving to different locations. This also helps the couple not feel rushed throughout the day. If you are having a residential wedding, sometimes finding another spot for the formals is ideal, depending what we are working with. We are always open to different locations for photos.
WILL MY WEDDING IMAGES BE USED FOR ADVERTISING?
We love to showcase your wedding photography on our website and social media sites. After all of your planning comes together and we get to finally capture your wedding day, it's fun to show off your day. However, if you prefer to keep your images private, we respect that and will note on your contract that you prefer not to sign off on the model release form.
WHAT IF OUR PHOTOGRAPHER GETS SICK ON MY WEDDING DAY?
Wedding days obviously are not rescheduled. In 13 years, we have yet to miss a wedding. In the event of a major sickness or injury, we are confident that Lisa or one of our professional associate photographers will be there to capture your wedding day beautifully.
DO YOU OFFER VIDEOGRAPHY?
Our studio specializes in photography. We know the art in and out, and like to keep focused on the photography medium. If you choose to hire a wedding videographer, we always work closely with them so that you get the coverage that you are looking for. Looking for a recommendation? Contact us for referrals of some amazing wedding videographers.
DO YOU COORDINATE WITH THE OTHER VENDORS?
Since your photographer is one of the first vendors booked, we love to provide a tentative photo timeline that will be helpful in planning your day. We are happy to send it along to the venue and other vendors who may need it. Our contract paperwork asks for information of your DJ and venue. We like to provide timelines to them in advance, so they know when to expect your arrival to the reception. This helps them plan their timelines, as well.